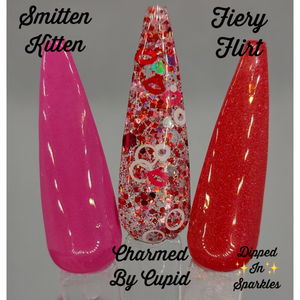 Cupid Trio: Smitten Kitten, Charmed By Cupid and Firey Flirt
This set of three was made to pair together. The star is the chunky glitter with over 8 different shapes and sizes; all Valentine's themed. Paired with a bright blue red with blue and purple shimmer and a solid bright pink.
Limited First Batch.
NO COUPONS IR DISCOUNTS PLEASE.