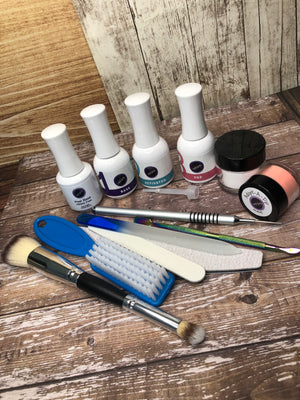 Dip Method Ultra Starter Kit
Everything you need to start your dip nail journey. These are all my top favorite products i use personally after dipping for four years.
Includes:
Air Dry Peel Base
Dip Base
Dip Activator
Dip Top Coat
Half Ounce Jar of clear
Mini jar of your choice**
Alloy Handle Cuticle Tool 
Tool B
Nail files (1 regular size + 1 cuticle file)
Glass nail file
Scrub Brush (color random)
Dual End Fluffy Brush
Bundle saves $15! 
**Excludes flake dips. Add your choice to the notes at checkout.